Quality Nissan Altima Models in Cleveland, TN
Are you searching for a sleek sedan that packs style, efficiency and technology all into one incredible vehicle? Then the Nissan Altima is the perfect choice no matter which model you choose thanks to modern technologies, sophisticated design and impressive fuel efficiency just to name a few. Check out how the Nissan Altima has evolved over the years to see which one suits you and your lifestyle best.
History of the Nissan Altima
Gracing us with its presence in 1992, the 1993 Nissan Altima model made a lasting first impression and continues to impress buyers still today. Currently in its sixth generation with the recent launch of the all-new 2019 model, the Altima has proven its here to stay for years to come.
The first-generation Altima made a splash among the sea of competition in the midsize sedan market thanks to features like a 150 hp straight-4 DOHC engine paired with a five-speed manual or four-speed automatic transmission as well as an impressive suspension delivering sporty handling that made this sedan stand out from the crowd.
In 1998, the second-generation Altima made its appearance showing off a new interior with enhanced premium comforts and new available options to choose from. Additionally, the first Limited Edition model was made available, paving the way for Nissan's value pricing strategy in subsequent years. Also new for the second generation in 2000 was an increase in engine power, longer body length and a fresh, new facelift making the Altima even more desirable.
The Nissan Altima had made quite a name for itself by its third generation in 2002, proving to be a popular choice among buyers all over. Equipped with new features like Nissan's unique new FF-L platform, a new 3.5-liter V6 in addition to its 2.5-liter four-cylinder engine, the new generation was an instant hit. Also new for the third generation was a major increase in interior volume, improved handling, increased aggressive styling and a facelift for the 2005-2006 model years.
The fourth-generation Altima delivered a new platform, revised engines, an optional continuously variable transmission and a major technology revamp increasing its appeal to modern buyers everywhere. Also, a new Coupe and Hybrid joined the lineup providing more options for shoppers to choose from.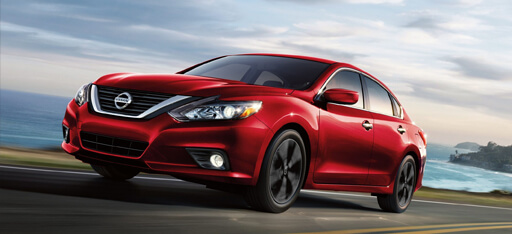 In 2013, a whole new Altima hit the market entering its fifth generation. Thanks to a redesigned 2.5-liter engine delivering improved fuel efficiency, next-generation advanced Xtronic CVT®, a new advanced rear multi-link suspension and new enhanced safety features to choose from, loyal Altima followers were blown away with the incredible new updates throughout this generation.
Currently in its sixth generation, the Nissan Altima continues to wow buyers year after year with eye-catching design, premium amenities and integrated tech turning your every day drives into memorable adventures.
2013

In 2013, a completely redesigned Nissan Altima hit the market to prove it was here to command attention. After undergoing a complete overhaul, the new Nissan Altima offered buyers a redesigned 2.5-liter engine delivering improved fuel efficiency, a next-generation advanced Xtronic CVT®, a new advanced rear multi-link suspension, new Electronic Hydraulic Power-Assisted Steering (EHPS) system, NASA-Inspired "Zero-Gravity" Seats, new Advanced Drive-Assist™ Display (ADAD), NissanConnectSM and the available Blind Spot Warning (BSW), Lane Departure Warning (LDW) and Moving Object Detection (MOD) to show it was ready to take the lead in the segment.
2014 & 2015
For 2014 and 2015 the Altima received some modern touchups in the technology department, including a new global smartphone integration platform and new NissanConnect® Apps to provide drivers with exactly what they needed for life on the go. Additionally, the Altima 3.5 SL came equipped with new standard features like NissanConnectSM with Navigation and Mobile Apps, Blind Spot Warning (BSW), Moving Object Detection (MOD) and Lane Departure Warning (LDW).
However, if you're a coupe enthusiast, Nissan said farewell to the Altima Coupe in 2014, so you'll have to choose a model from 2008-2013 if you're seeking a coupe body style.
2016
To shake things up, the 2016 Nissan Altima underwent an extensive redesign to deliver improved fuel economy, a new sport SR model and expanded "Safety Shield Technologies" to keep up with the changing times.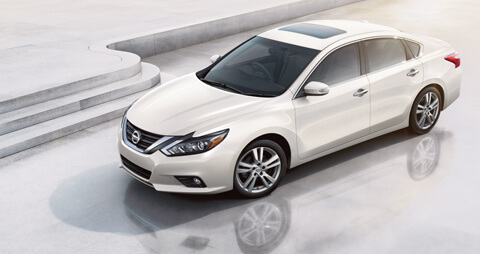 2017
The Nissan Altima went to the dark side in 2017, in a good way, offering a new Midnight Edition with features like 18-inch black wheels, black outside rearview mirror caps and a black rear spoiler for those that like a little extra sportiness. Also, enhanced standard safety features were added like Forward Emergency Braking (FEB) and Predictive Forward Collision Warning (PFCW) on the 2017.5 Altima 2.5 SV, 2.5 SL and 3.5 SL models.
2018
The 2018 Nissan Altima once again stood out among other sedans thanks to Nissan's advanced Automatic Emergency Braking (AEB) and Intelligent Forward Collision Warning (I-FCW) now featured on all Nissan Altima models so loyalists could drive with peace of mind no matter which one they chose.
What's New for 2019?
Entering its sixth generation, the all-new 2019 Nissan Altima was beautifully crafted from the ground up with sleek design, the world's first VC-Turbo engine, Intelligent All-Wheel Drive and plenty of advanced technologies like standard Apple CarPlay™ and Android Auto™ making it an instant leader of the pack among sedans everywhere.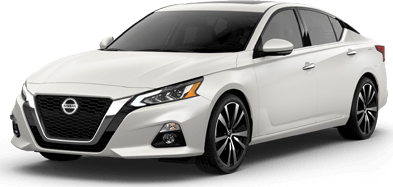 When you're ready to drive home your Nissan Altima, be sure to browse our incredible selection of quality used models here at Vehicles Direct Cleveland. Thanks to our impressive lineup of used Altima models, you'll find the perfect one for your lifestyle for a competitive price you'll love. Let the fun begin and start shopping for your upgrade today.
It Pays to Shop with Vehicles Direct.
If you'd like to purchase or lease a used Nissan Altima in Cleveland, TN, stop by Vehicles Direct Cleveland at 2490 S. Lee Highway, Cleveland, TN 37311 for a test-drive today. We look forward to serving our customers from Cleveland, TN, and throughout Chattanooga and Decatur, TN.